Speen Helping Hospices (SHH) presents Jazz in the Park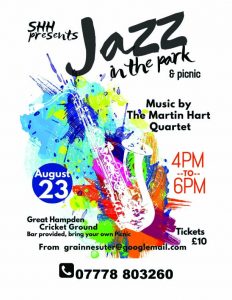 Sunday 23 August at Great Hampden Cricket Ground 4pm to 6pm – Tickets £10 – Bar – Why not bring your own picnic plus chairs or rugs. Music by the  Martin Hart Quartet . 
Tickets from Gráinne Suter  07778 803260 or grainnesuter@btconnect.com
Speen Helping Hospices (SHH) picture draw raises over £3,000.

   
The draw took place at 12.00 on Saturday 11 July.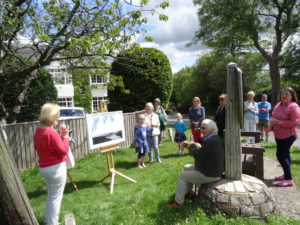 Liz Dawson won the picture and Valetta Brown the framed signed print.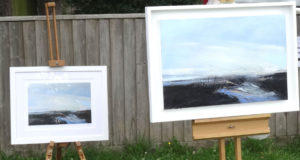 Thanks once again to those supporting SHH by buying tickets  and to Joanna Brownridge for donating her picture and Martin Hart for his excellent copy prints. Many people are now having their prints framed.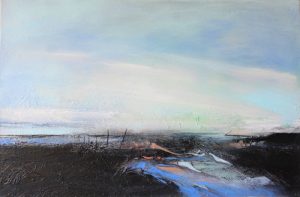 Never has raising funds for hospices been more critical and never has the task of raising funds been more challenging, so SHH are privileged to offer you an exclusive opportunity to own this original piece of artwork from the award winning local landscape artist Joanna Brownridge.
Joanna was artist of the year 2020 at the Buckinghamshire Art Society and artist of the year 2019 for the West Wycombe Art Group and she has very generously donated one of her winning oil paintings "Mist" in aid of raising much needed funds for the hospices we support.
Tickets are £25, with every ticket you will get a signed A3/ print copy produced by well-known photographer and jazz player Martin Hart.
Tickets for sale from Gráinne Suter at grainnesuter@btconnect.com
or call 01494 488540 or / 07778 803260
1st Prize original framed 90cm x 65cm painting "Mist"
2nd prize a signed and framed print of the original
The draw will take place Saturday 11th July.
Face Masks Sale – Speen Helping Hospices are  Changing the face of fashion for charity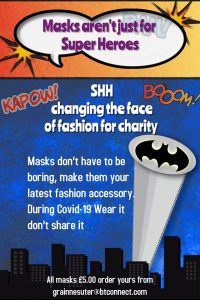 The SHH have been producing Children's, 7″ and 8″ elastic ear loop and tie masks for the last 2 weeks by popular demand.
Due to Covid 19 all fundraising events have had to be cancelled or put on hold for the foreseeable future but several of the team were approached enquiring if we would be making face masks. That was 2 weeks ago and yesterday thanks to your support we have sold 200 masks and raised £1000. We will continue producing masks as long as the demand remains and I have posted the flyer with contact info and some photo's.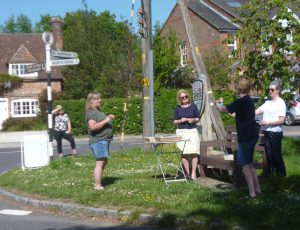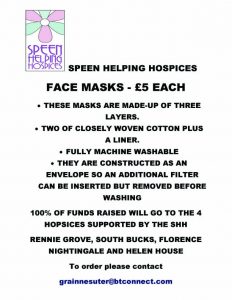 Speen Helping Hospices (SHH) has been approached by a few people asking if we were planning to fundraise for the hospices by making and selling face masks. We would be very happy to do this if there was a reasonable demand.
If this is something you would be interested in, please can you email me on grainnesuter@btconnect.com or text on 07778 803260 and let me know.
I am sure you will all have gathered that due to the current crisis all fund raising events planned by the SHH have either been put on hold or cancelled altogether for the foreseeable future. So the Face Masks would enable us to raise a little money.
We are still continuing with the plans for Christmas Market in the hope that will go ahead. The overheads for the Hospices remains the same and with 80% of the necessary funds raised through groups like ours, their shops and other events they and most other charities will or already are  in crisis.
So when we are able to get going again we really will need everyone's support to try and make up some of the money normally raised.
SPEEN HELPING HOSPICES
Retro Party Night – Saturday 31st August – 7pm till 11pm – Marquee on Speen Playing Fields
Speen Helping Hospices are opening the Speen Festival this year with a 1970's Party night and the Box Office is now open to book your tickets: www.speenfestival.org/events/retro-party-night
Glitter Ball Retro Party Night Speen Festival
Thank you to everyone that came along last Saturday 31st August to the opening night of The Speen Festival.
It was with great pleasure the SHH team were able to run this event and with your help it was a blast from beginning to end.
The Bingo session run so professionally by Sam was great fun and from the moment our DJ Paul turned up the Disco music the dance floor was packed!
Thank you to Cat for including us , the team that helped us set-up and managed to hang the large Glitter Ball and of course the team at the lighting and sound desk who did an amazing job.
We raised just over £1400 which is a marvellous result and with 2 more events still to run the cheques to the Hospices this year should be very generous.
HISTORY
Speen Helping Hospices was founded in 2001 by Suzi Rose with the aim of raising funds for local hospices. The group started in a small way with a Hospice Charity Christmas Card Sale and other small events building over the years to the 5 events we are running this year. The Spring Lunch at the Horses Trust, The Car Boot Sale, Bridge Afternoon, Chilli and Dancing to a live band evening and The Christmas Market.With limited Government funding the Hospice Charites rely heavily on groups like the SHH to raise funds necessary to care for people with life limiting conditions and support their families.
The group support Florence Nightingale House, Helen Douglas House, Rennie Grove hospice and The South Bucks Day Hospice. To date we have raised £79,000
2018
After a very successful year the SHH were able to donate £10,000 split between the 4 Hospices supported by the group. Attached are some of the thank you letters received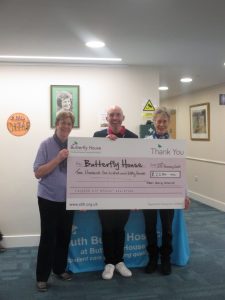 EVENTS
SHH Quiz Night -Speen Village Hall on Friday 15th March from 7.30 pm.
Thank you to everyone that came along and held us raise another £800 towards the Hospice funds the total of which are now well on there way to £80,000. We couldn't do it without you!
The Hall was full to bursting and everyone enjoyed a very noisy and fun evening tackling  the questions and the magnificent cheese and pate platers with equal relish.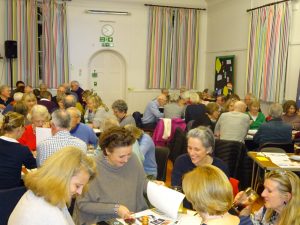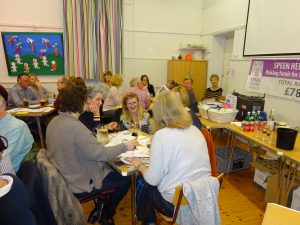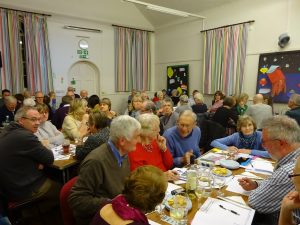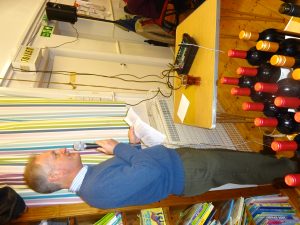 SPRING LUNCH
A BIG thank you to all those that came along our ever popular Spring Lunch on Thursday May 2nd in the beautiful Tythe Barn at the Horses Trust, Speen. It was truly a wonderful day and I hope everyone enjoyed it as much as the SHH team did!
We would also like to thank the Horses Trust for allowing us to use their beautiful Tythe Barn.
Through your generosity we were able to raise over £1800 from this event. and as you heard from our speaker all the Hospices rely heavily on Groups like ours to raise the vitally needed funds.
Thank you again from everyone on the Speen Helping Hospice team.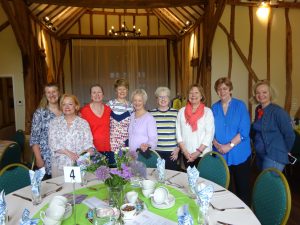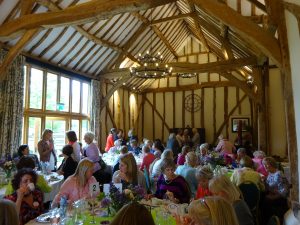 RACE NIGHT FRIDAY 7TH JUNE
Al Bowyer helped us organise our very first Race Night and if the noise levels were anything to go by it was a great success. A big thank you to everyone that joined us and help make it such a fun evening. We raised just over £1300 from the event making out total £82991.73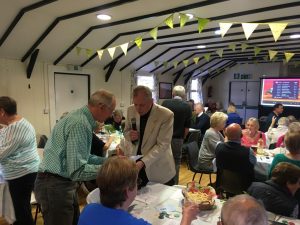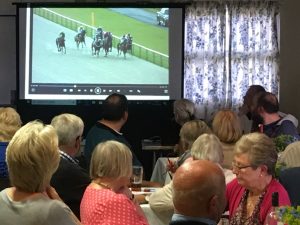 1.73 
Retro Party Night
Saturday 31st August
7.00pm till 11.00pm
Venue: Marquee on Speen Playing Fields
Ticket price: £15.00
Do you Wanna Dance?
Ready Steady Go for Seventies Retro Fun!
Turn back the clock, don your party gear for bingo, seventies party food and music at a glitterball disco.
Bingo is now very much on-trend again but was at it's height in the 1970's and the event will start with a fun game of Bingo. A buffet of 1970's party food will then be served followed by the glitter ball disco.
Grab your dabber and learn the bingo lingo!
ANNUAL CHRISTMAS MARKET