Speen Helping Hospices Website |  Speen Helping Hospices @ facebook |  Speen Helping Hospices @ Twitter
———————————————
The group – was founded in 2001 by Suzi Rose and called the Speen Supporters Group, in 2013 it became The Speen Group. In 2014 became the Speen Helping Hospices as this name described the purpose of the group and the full objective of raising money for local Hospices. The group has raised over £138,000 since it was established in 2001
Help raise money for Speen Helping Hospices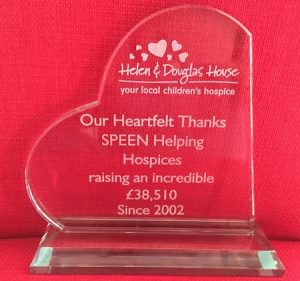 Award presented to Speen Helping Hospices by Andrea Baganz-Pritchard from Helen & Douglas House on the 3rd May 2023 for raising £38,510 since 2002
———————————————
Charity Golf Day at Burnham Beeches Golf Club –Wednesday 15th March 2023 – SOLD OUT & £5,500 raised for Hospice Charities
Enjoy a game of golf and help raise funds for Speen Helping Hospices at Burnham Beeches Golf Club
Tickets Fourball Stableford Team Competition
Team Entry £300 or £75 per person. Teams organised by one person for £300 will receive a joker to double their score on one hole – More Detailed information Here
Thank you to all the Golf Prize & Hole sponsors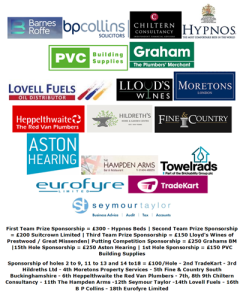 Click on image on left to enlarge
———————————————
Valentine's Dinner Raffle 2023 –For our first fundraising event in 2023, we are running a Valentine's Dinner Raffle. This is a chance for Two lucky couples to win a dinner for two delivered to your home** on Valentine's Day – Tuesday 14 February.
It will include a cocktail, canapes, 3 course meal, chocolates, champagne and roses. Tickets and More detailed information Here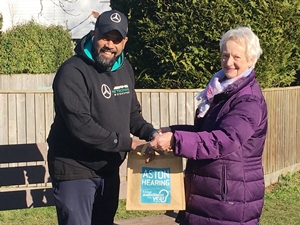 8th February 2023 Draw for two lucky couples to win a Valentine's night dinner delivered to their home. Winning ticket numbers were 83 and 95. Thank you to everyone who bought tickets from Great Hampden,Lacey Green, Hughenden Valley, North Dean, Princes Risborough, Speen and Walters Ash
———————————————
Win a Christmas Hamper Draw December 2022 – The draw will place in Speen, outside Speen Stores on Saturday 17th December at 11.00 Tickets £5 each  find out more here
———————————————
Annual Christmas Market  – Saturday 19th November 2022 @ Speen Church, Chapel Hill, Speen, Bucks HP27 0SP
11am to 4pm
Entrance fee £2 per person  –  More information here
———————————————
Pub Quiz night – Friday 2 December 2022 @ Speen Chapel Hall, Chapel Hill, Speen, Bucks HP27 0SP
Sorry Sold Out
Hosted by Al Bowyer and Jill Rogerson
Licensed Pay Bar
Complimentary home-made Cottage Pie and Dessert **
7.00 pm for 7.30 start__ __
Tickets £15.00 per person
No booking fee
Pay by Debit or Credit Card
**If you are vegan or vegetarian please Contact us and we will serve an alternate plate
———————————————
Lloyd's Wine Tasting evening
Wine Tasting with Lloyds Wines
– Fancy a night out tasting wine, eating artisan cheeses and cold meats among friends while you get to taste 9 extraordinary wines and have a relaxed explanation of the wines as you sip, munch and chat?
If so, then get booked in for this tasty treat, we will greet you with a glass of fizz. Simon will bring a great cross section of affordable wines to suit all palates, penchants and purses! Once you have paid your entry fee, he will take you all over the wine globe and back. Explore countries like Moravia, Morocco and Lebanon, as well as the more traditional styles.
Friday 9th September 7.30 for 8pm
Buy tickets Here at £30 per person
———————————————

Jazz in the Park 12 June 2022
Jazz in the Park – Sunday 12th June 2022 at Great Hampden Cricket Ground featuring The Martin Hart Quartet
2-5 but arrive at 1 and bring your own picnic
*Licensed Bar
*Free Parking
*Free admission for anyone under 16 accompanied by a paying adult
Advance purchase Tickets £12.50 per person or £15.00 per person on the day at the gate Buy your tickets Here online
———————————————
Valentine's Dinner Raffle 2022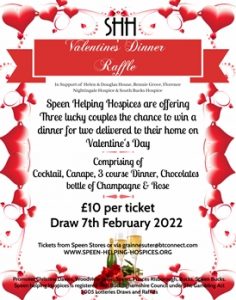 After a successful fund raising year in 2021, our first event in 2022 is the Valentines Dinner Raffle, with the winning tickets being drawn on the 8th February at 11.00 outside Speen Stores.
This year its 3, yes three lucky couples who get the chance to win a dinner for 2 on Valentines night to be delivered to their door on either the Saturday, Sunday or Monday night.
The meal consists of a Cocktail, Canape, 3 course meal, Chocolates, bottle of Champagne and a rose, and all the price of £10 per ticket.
More information about this fund raising event Here
This event raised £840
———————————————
Christmas carols over 3 nights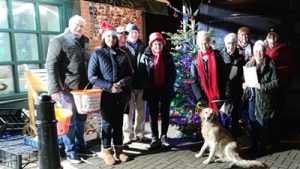 This event raised £870
———————————————
Win a Christmas Hamper 

Draw December 202

1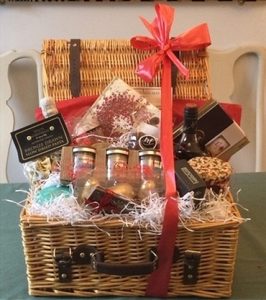 Once again SHH have put together a fantastic Christmas Hamper to win. Tickets £5 available from Speen Stores or via the Speen Helping Hospices website HERE.
Draw took place on Saturday 18th December after the Sassy Santas fun run. It raised £820
———————————————
Sassy Santas

 Fun Run

December 2021 £1,040 raised by these fantastic ladies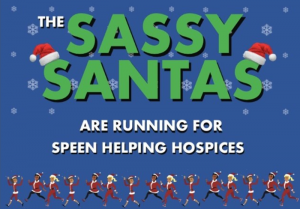 They are back again, Katherine Matthews, Angela Forkgen, Lesley Thorn-Davis, Debbie O'Brien, Debbie Tilt, Alison Kent, Caroline Cranley, Clare Hobbs and Rachel Palmer – aka The Sassy Santas!
Taking place on 18th December from 10am in a circular route around Speen, we are members of a local ladies running group. They are raising funds for  Speen Helping Hospices and aim to raise £1,000. More information here  It raised £1,040
———————————————
Annual indoor Christmas Market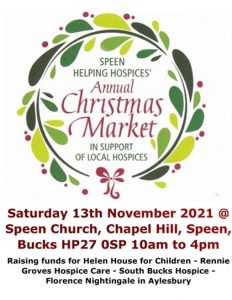 The Annual Christmas Market will once again be indoors on Saturday 13th November 2021 @ Speen Church, Chapel Hill, Speen, Bucks HP27 0SP 10am to 4pm
A great selection of Christmas gifts including Wine, Gins, Cheese, Cold Meats, Luxury Chocolates, Wood Carvings, Jewellery, Small Antiques and Collectables, Knitted Accessories, Glove Puppets, Rag Dolls, Christmas Tree Decorations, Candles, Bags, Skincare, Children's Jewellery and Felt Gifts
* Refreshments including, Mulled Wine, Tea and Coffee  More information HereIt raised £2,500
———————————————
Bridge Afternoon at North Dean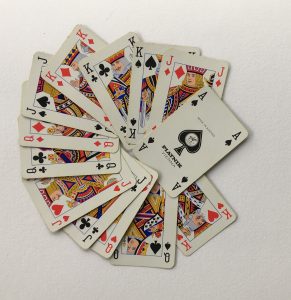 Took place on  Wednesday 6th October – a Charity Bridge event with afternoon tea in North Dean Village Hall . It raised £600
Tickets £10 per person More Information here
———————————————
Summer's End pub night
Friday 17th September from 7pm to 11.00pm – Outdoors social distance event in the garden at Fir View Cottage, Grubbins Lane (off Flowers Bottom Lane), Speen.
———————————————
Wine Tasting evening event by Lloyd's Wines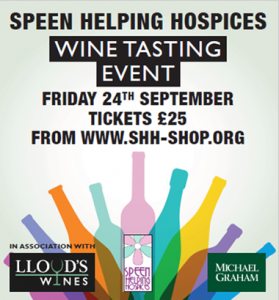 A wine tasting evening  on Friday 24th September organised by Lloyds Wines. A great evening at Speen Church Hall, Chapel Hill Speen.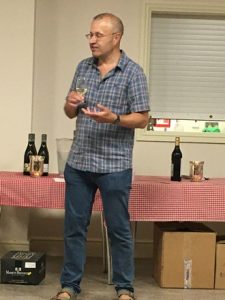 Tickets were on sale at £25 each to include 8 wine tastings and a sharing cheese and charcuterie platter – More information here
It raised just under £600
———————————————
SHH Party through the ages at Speen Festival 21 – Saturday 4th September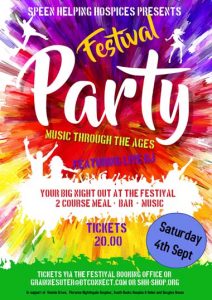 This was a fantastic evening in the middle of  Speen Festival 2021. It took place  in the marquee at Speen Playing Fields on Saturday 4th September. Great bar organised by Andrew and team and fabulous DJ Paul – The Ticket price of £20 per person included a two course meal.   
 See what you missed or enjoyed  via this link
It raised £2,075
———————————————
Speen Helping Hospices were delighted that Speen Fete was back again this year on Saturday 3rd July. They were fundraising for Speen Helping Hospices and village organisations and it was very well attended.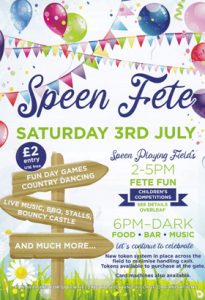 2-5 pm and then 6 pm – Dark – Food – Bar – Music- Another fantastic Speen Fete after a break in 2020. The fete raised over £4,500 and they donated £1,100 to Speen Helping Hospices and £200 to the One Can Trust foodbank . A presentation was made at the SHH Party through the ages at Speen Festival 21 See Video Here – Saturday 4th September
———————————————
Jazz in the Park – Sunday June 13th 2021
This was a great event on a hot Sunday in June at Great Hampden Cricket Ground – it raised over £3,000 for the local hospices. Thanks to everyone who supported the event and of court to The Martin Hart Quartet, Johnny Thirkell playing the trumpet and Frank Walden on saxophone 
Following on from the very successful event in August 2020 Speen Helping Hospices are organising another Jazz in the Park @ Great Hampden Cricket Ground on Sunday afternoon June 13th at 2pm – 6pm.
Bring your own chairs and picnic
BAR: Wine, Pimm's, Fizz or Beer available
Tickets £15 each Book early   More information at the Speen Helping Hospices website

———————————————
Easter Promotion 2021 from Speen Helping Hospices
We have some great ideas on this page for Easter gifts – Visit site Here
———————————————
Mother's Day 2021
Mother's Day is only a few days away now. Speen Helping Hospices online shop have some great ideas:
As you can't eat out, you can at least drink in with your Mother's Day meal accompanied by wine offers from Lloyd's Wines 
Need some chocolate? Of course you do – great selection from Anton Hazelle – Princes Risborough 
How about some decorative cane or rush mats or a basket?  Made in North Dean
Afternoon Tea Box Sunday 14th March 2021
Treat someone special with an "Afternoon Tea Box" from Speen Helping Hospices on Sunday 14th March.
Is there someone who has shown you kindness, helped you out or just been there when you needed them?
If so, why not say thank you with a perfect afternoon tea treat.
Each Tea Box contains a mix of four different types of sandwiches, homemade scones with jam and cream and a selection of delicious homemade cakes washed down with mini bottles of chilled Prosecco.
Each Tea Box serves two people and costs only £20 however there are up boxes for one, two or four @ £10, £20 or £40.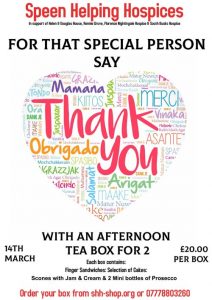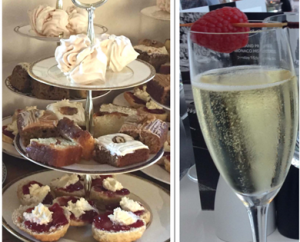 More information about buying an afternoon tea box Here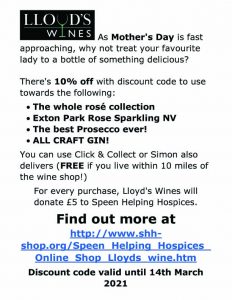 As Mother's Day is fast approaching, why not treat your favourite lady to a bottle of something delicious? Find out all about this offer Here?
———————————————
Thank you Aston Hearing Services for the SHH feature in their March 2021 newsletter – Read it here
———————————————
Valentines' Dinner Raffle 2021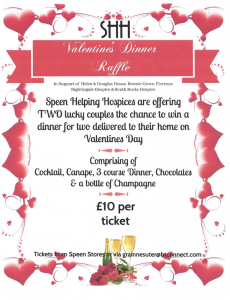 For our first fundraising event in 2021, we are running a Valentine's Dinner Raffle. This is a chance for two lucky couples to win a dinner for two delivered to your home on Valentine's Day.
It will include a cocktail, canapes, 3 course meal, chocolates, and champagne. The draw  took place on the 8th February 2021 outside Speen Stores – Winning tickets 47 a lucky couple from Great Missenden and 76 a lucky couple from Speen. £1,430 raised by this event. 
A fantastic achievement for the4 first SHH fundraising event of 2021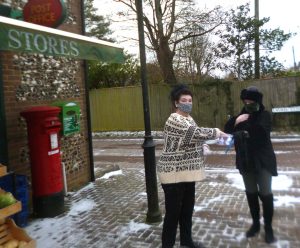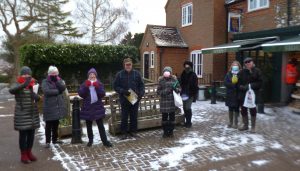 More information here including Terms of  the raffle
———————————————
Speen Helping Hospices – Thank you for your support in 2020
Thanking everyone for their support in 2020 helping raise funds for the four local hospices in a very difficult year, Since 2001 SHH has raised over £106,600 – Happy New Year

10 January 2021
Dear Speen and North Dean
The final profit for the Christmas Market which includes not just the On-line shop but also the Hamper, Sassy Santa's and the Carol Singing is £6,448.69.
The total raised for 2020 is £17,604. With the cushion we had at the start of the year the total in our account is £19,339.01.
On your behalf we are now able to donate £4,500 to each of the four Hospices, leaving a cushion to cover our overheads (e.g insurance).
This is our best year ever! Thank you all for your support.
We will provide full details of each fundraiser and our overheads in the next Speen North Dean News
---
SHH fundraising initiatives 2021
If you would like to be involved in our fundraising events or have fundraising ideas, or would like to sponsor an event or donate a raffle prize please do contact Grainne on 07778 803260.
———————————————
Speen Helping Hospices – Dates for Carol Singing in Speen
Listen out for Carol Singing in your area on the following three nights. We will be carolling from 6.30 to 8.30pm Social Distancing naturally
The collection will be for Speen Helping Hospices. The hospices we support our Helen House for Children, Rennie Groves, Florence Nightingale and South Bucks Hospice. 
Wednesday 16th December
Chapel Hill including the school end of Grubbins Lane, Water Lane, St Peter's Close, Laurel Close, Abbotswood and up by the Chapel.
Friday 18th December
Hampden Road including Wayside, Monkton Way, Cornerways, Woodview Drive, Hampden Road end of Coleheath Bottom
Monday 21st December Cancelled because of latest regulations
Studridge Lane including Moses Platt Lane, Cherry Tree Close, Red House Farm end of Grubbins Lane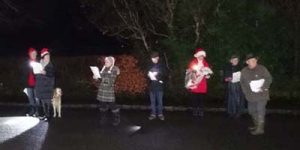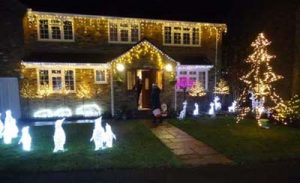 Over £750 raised this year – Thank you so much for your support, very pleased to have got 2 out 3 nights and a fantastic job done by the carol singing team.
———————————————
Saturday 19th December….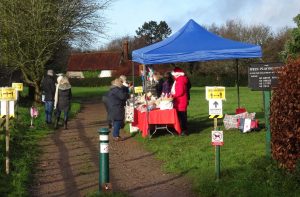 The final pop-up this year and finishing place of the Sassy Santas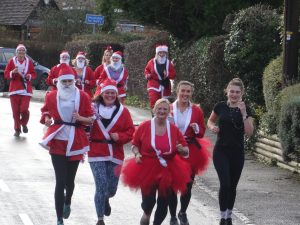 as they completed their fun run and arrived at Speen Playing fields around 10.45.
There were home made cakes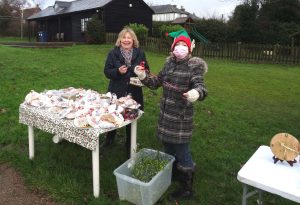 and craft pop-up stalls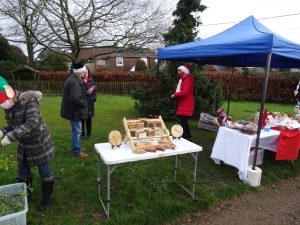 by the entrance to  Speen Playing Fields for the draw for the Christmas Hamper and runner up prize of Winter Spice Candle.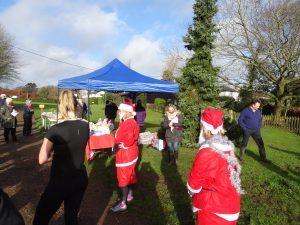 The draw was held at 11.00 and the winning ticket won by a Speen Resident and the runner up – Winter Spice candle kindly donated by Trish Preston-Whyte of The Chiltern Candle Co  was won by a member of the Hampden WI.
The Christmas Hamper raised £1,195 and  as at the 20th December the Sassy Santas have raised over £1,653.10  via their Just Giving page, donation and bucket collection on the 19th December. Well done ladies and supporters.
———————————————
Speen Helping Hospices online shop has still got many gifts and decorations at the 4th December
The online shop still has a selection of gifts and decorations available for Christmas together with links to Antiques, wood carving, chocolates, Lloyd's Wines, art and artisan Cane+Rush products. Take a look at the  website  for further details.
———————————————
Speen Helping Hospices online shop taking on more products
Since the SHH online shop was launched on the 10th November a fantastic amount of sales have been generated including ticket sales for the Christmas Hamper raffle.
Take a look at the updated website  that now has Speen Art by Ceri Syner,  Souvenirs of Speen from the Speen Heritage Group, Wood Carvings by David Griggs, Antiques for sale from Woodpecker Antiques,  Luxury Chocolate For You by Anton Hazelle of  Princes Risborough. Lloyd's Wines and  "Tasty Bites" –  sausage rolls, mince pies and biscuits baked in Speen and North Dean and Cane+Rush from North Dean.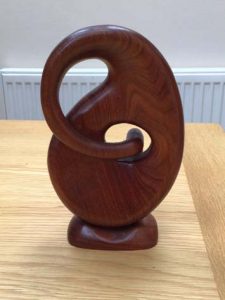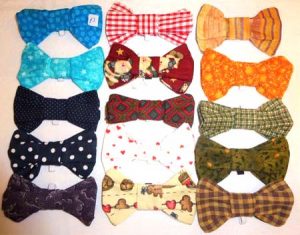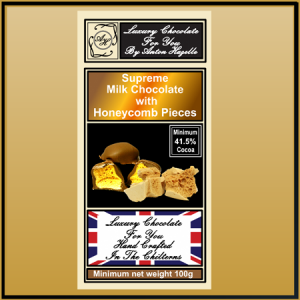 ———————————————
Speen Helping Hospices online Christmas Market

 

    Think local and shop local with us.
The  Christmas Market is now online, just go to shh-shop.org .  We have a wonderful selection of gifts and treats for all the family for Christmas. All the money from the online shop will go to the four hospices Helen House for Children, Florence Nightingale House, Rennie Groves Hospice Care and South Bucks Day Hospice. 
Face Masks
As you will have read recently some face masks on sale in national stores are inadequate, no more than a fashion item and provide minimum  protection.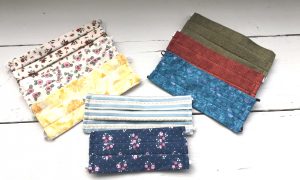 SHH face masks are made-up of three layers, two of closely woven cotton plus a liner. They are constructed as an envelope so an additional filter can be inserted but removed before washing. They are fully machine washable. 100% of funds raised will go to the four hospices. They cost £5.00 each
Our Christmas line will be on sale shortly. To order contact Grainne on  07778 803260.
Speen Helping Hospice Christmas Hamper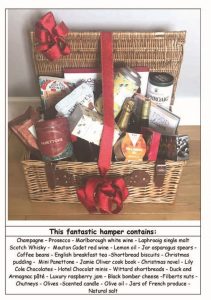 Tickets are now on sale for a stunning Christmas Hamper. The tickets are £5 each from Speen Stores and from Gráinne Suter on 07778 803260 or grainnesuter@btconnect.com
100% of funds raised will go to the hospices. Runner up prize Winter Spice candle from The Chilton Candle Company of Speen
———————————————
Sassy Santas Fun Run
On the same day as the raffle draw ,Katherine Matthews, Angela Forkgen, Lesley Thorn-Davis, Debbie O'Brien, Debbie Tilt, Alison Kent, Caroline Cranley, Clare Hobbs aka The Sassy Santas! have organised their version of a Santa Fun Run on 19th December from 10am in a route around Speen.
The objective to raise more funds for Speen Helping Hospices. To add to their "just giving.com" crowd funding page – Click on the image below to go to their page and offer your support.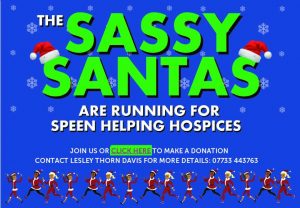 ———————————————
Carol Singing in Speen December 2020 – Dates to be confirmed
Last December Speen Helping Hospices reintroduced carol singing back into the village. It was great fun and a good fundraiser, £706.67 over two evenings and two mornings!
We will be back again this year with a bigger group and intend to cover the whole of the village. We will circulate dates and routes nearer the time.  It would be wonderful to get to £1,000 this year. We could do that with your help!
———————————————

Following our last (socially distanced) fundraising event – Jazz in the Park – in August we brought our total raised to over £10,000 since lockdown. We would like to increase this figure significantly through our online Christmas shop, with your help this is achievable.
———————————————
Thank you to a couple from Speen.
They noticed the image below as they walked by and donated money to take Speen Helping Hospices fund raising since 2001 to over £100,000 which was really kind of them.  
2 September 2020 – Speen Helping Hospices have now raised over £99,940 since it was established in 2001
———————————————
Speen Helping Hospices (SHH) presents Jazz in the Park
Over £1,250 raised at Jazz in The Park – 23 August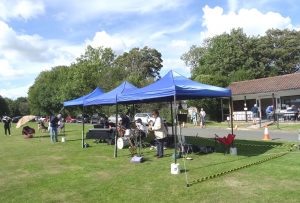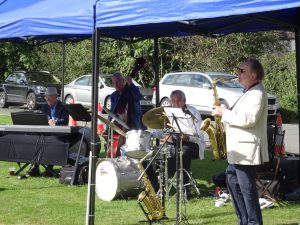 What a fantastic afternoon at Great Hampden with the Martin Hart Quartet entertaining the very well social distanced visitors for a couple of hours. Fortunately there was only a short rain shower about an hour before the event started and people were able to have their picnics and drinks from the outside bar in their individual "bubbles" on a sunny Sunday afternoon.
Thank you for those who came along to support Speen Helping Hospices and it was such a shame that everyone who wanted tickets could not have them,  but we had to comply with social distancing.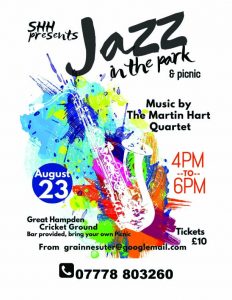 Sunday 23 August at Great Hampden Cricket Ground 4pm to 6pm – Tickets £10 – Bar – Why not bring your own picnic plus chairs or rugs. Music by the  Martin Hart Quartet . 
Tickets from Gráinne Suter  07778 803260 or grainnesuter@btconnect.com
———————————————
Speen Helping Hospices (SHH) picture draw raises over £3,000.

   
The draw took place at 12.00 on Saturday 11 July.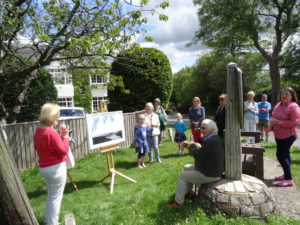 Liz Dawson won the picture and Valetta Brown the framed signed print.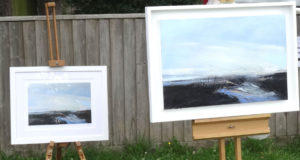 Thanks once again to those supporting SHH by buying tickets  and to Joanna Brownridge for donating her picture and Martin Hart for his excellent copy prints. Many people are now having their prints framed.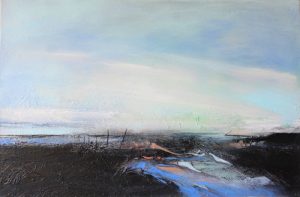 Never has raising funds for hospices been more critical and never has the task of raising funds been more challenging, so SHH are privileged to offer you an exclusive opportunity to own this original piece of artwork from the award winning local landscape artist Joanna Brownridge.
Joanna was artist of the year 2020 at the Buckinghamshire Art Society and artist of the year 2019 for the West Wycombe Art Group and she has very generously donated one of her winning oil paintings "Mist" in aid of raising much needed funds for the hospices we support.
Tickets are £25, with every ticket you will get a signed A3/ print copy produced by well-known photographer and jazz player Martin Hart.
Tickets for sale from Gráinne Suter at grainnesuter@btconnect.com
or call 01494 488540 or / 07778 803260
1st Prize original framed 90cm x 65cm painting "Mist"
2nd prize a signed and framed print of the original
The draw will take place Saturday 11th July.
———————————————
Face Masks Sale – Speen Helping Hospices are  Changing the face of fashion for charity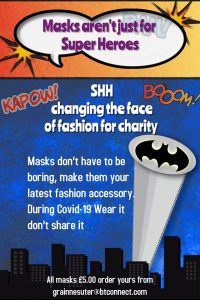 The SHH have been producing Children's, 7″ and 8″ elastic ear loop and tie masks for the last 2 weeks by popular demand.
Due to Covid 19 all fundraising events have had to be cancelled or put on hold for the foreseeable future but several of the team were approached enquiring if we would be making face masks. That was 2 weeks ago and yesterday thanks to your support we have sold 200 masks and raised £1000. We will continue producing masks as long as the demand remains and I have posted the flyer with contact info and some photo's.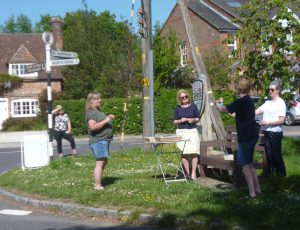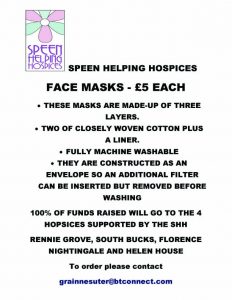 Speen Helping Hospices (SHH) has been approached by a few people asking if we were planning to fundraise for the hospices by making and selling face masks. We would be very happy to do this if there was a reasonable demand.
If this is something you would be interested in, please can you email me on grainnesuter@btconnect.com or text on 07778 803260 and let me know.
I am sure you will all have gathered that due to the current crisis all fund raising events planned by the SHH have either been put on hold or cancelled altogether for the foreseeable future. So the Face Masks would enable us to raise a little money.
We are still continuing with the plans for Christmas Market in the hope that will go ahead. The overheads for the Hospices remains the same and with 80% of the necessary funds raised through groups like ours, their shops and other events they and most other charities will or already are  in crisis.
So when we are able to get going again we really will need everyone's support to try and make up some of the money normally raised.
———————————————
SPEEN HELPING HOSPICES
Retro Party Night – Saturday 31st August – 7pm till 11pm – Marquee on Speen Playing Fields
Speen Helping Hospices are opening the Speen Festival this year with a 1970's Party night and the Box Office is now open to book your tickets: www.speenfestival.org/events/retro-party-night
Glitter Ball Retro Party Night Speen Festival
Thank you to everyone that came along last Saturday 31st August to the opening night of The Speen Festival.
It was with great pleasure the SHH team were able to run this event and with your help it was a blast from beginning to end.
The Bingo session run so professionally by Sam was great fun and from the moment our DJ Paul turned up the Disco music the dance floor was packed!
Thank you to Cat for including us , the team that helped us set-up and managed to hang the large Glitter Ball and of course the team at the lighting and sound desk who did an amazing job.
We raised just over £1400 which is a marvelous result and with 2 more events still to run the cheques to the Hospices this year should be very generous.
———————————————
HISTORY
Speen Helping Hospices was founded in 2001 by Suzi Rose with the aim of raising funds for local hospices. The group started in a small way with a Hospice Charity Christmas Card Sale and other small events building over the years to the 5 events we are running this year. The Spring Lunch at the Horses Trust, The Car Boot Sale, Bridge Afternoon, Chili and Dancing to a live band evening and The Christmas Market.With limited Government funding the Hospice Charites rely heavily on groups like the SHH to raise funds necessary to care for people with life limiting conditions and support their families.
The group support Florence Nightingale House, Helen Douglas House, Rennie Grove hospice and The South Bucks Day Hospice. To date we have raised £79,000
2018
After a very successful year the SHH were able to donate £10,000 split between the 4 Hospices supported by the group. Attached are some of the thank you letters received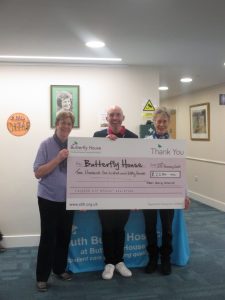 EVENTS
SHH Quiz Night -Speen Village Hall on Friday 15th March from 7.30 pm.
Thank you to everyone that came along and held us raise another £800 towards the Hospice funds the total of which are now well on there way to £80,000. We couldn't do it without you!
The Hall was full to bursting and everyone enjoyed a very noisy and fun evening tackling  the questions and the magnificent cheese and pate platers with equal relish.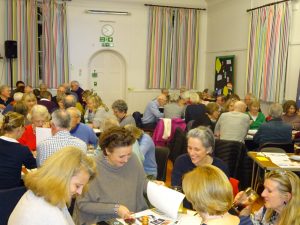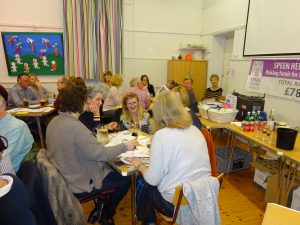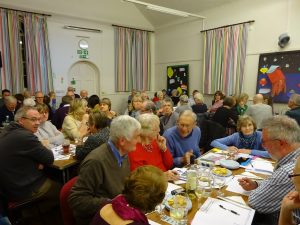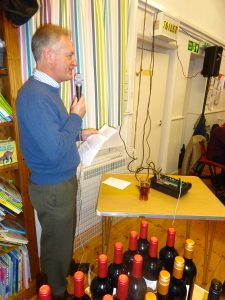 ———————————————
SPRING LUNCH
A BIG thank you to all those that came along our ever popular Spring Lunch on Thursday May 2nd in the beautiful Tythe Barn at the Horses Trust, Speen. It was truly a wonderful day and I hope everyone enjoyed it as much as the SHH team did!
We would also like to thank the Horses Trust for allowing us to use their beautiful Tythe Barn.
Through your generosity we were able to raise over £1800 from this event. and as you heard from our speaker all the Hospices rely heavily on Groups like ours to raise the vitally needed funds.
Thank you again from everyone on the Speen Helping Hospice team.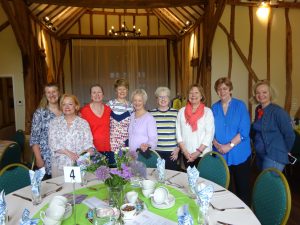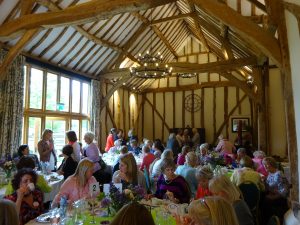 RACE NIGHT FRIDAY 7TH JUNE
Al Bowyer helped us organise our very first Race Night and if the noise levels were anything to go by it was a great success. A big thank you to everyone that joined us and help make it such a fun evening. We raised just over £1300 from the event making out total £82991.73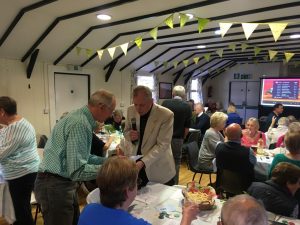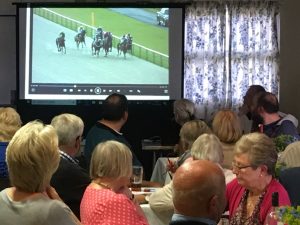 1.73 
Retro Party Night
Saturday 31st August
7.00pm till 11.00pm
Venue: Marquee on Speen Playing Fields
Ticket price: £15.00
Do you Wanna Dance?
Ready Steady Go for Seventies Retro Fun!
Turn back the clock, don your party gear for bingo, seventies party food and music at a glitterball disco.
Bingo is now very much on-trend again but was at it's height in the 1970's and the event will start with a fun game of Bingo. A buffet of 1970's party food will then be served followed by the glitter ball disco.
Grab your dabber and learn the bingo lingo!
———————————————
ANNUAL CHRISTMAS MARKET