Above / Below: Why boosting biodiversity matters
Please join us on 12 September at Speen Festival for a talk about biodiversity and reconnecting with our local environment. 
The air you breathe, the water you drink and the food you eat all ultimately rely on biodiversity. Some examples are obvious: without plants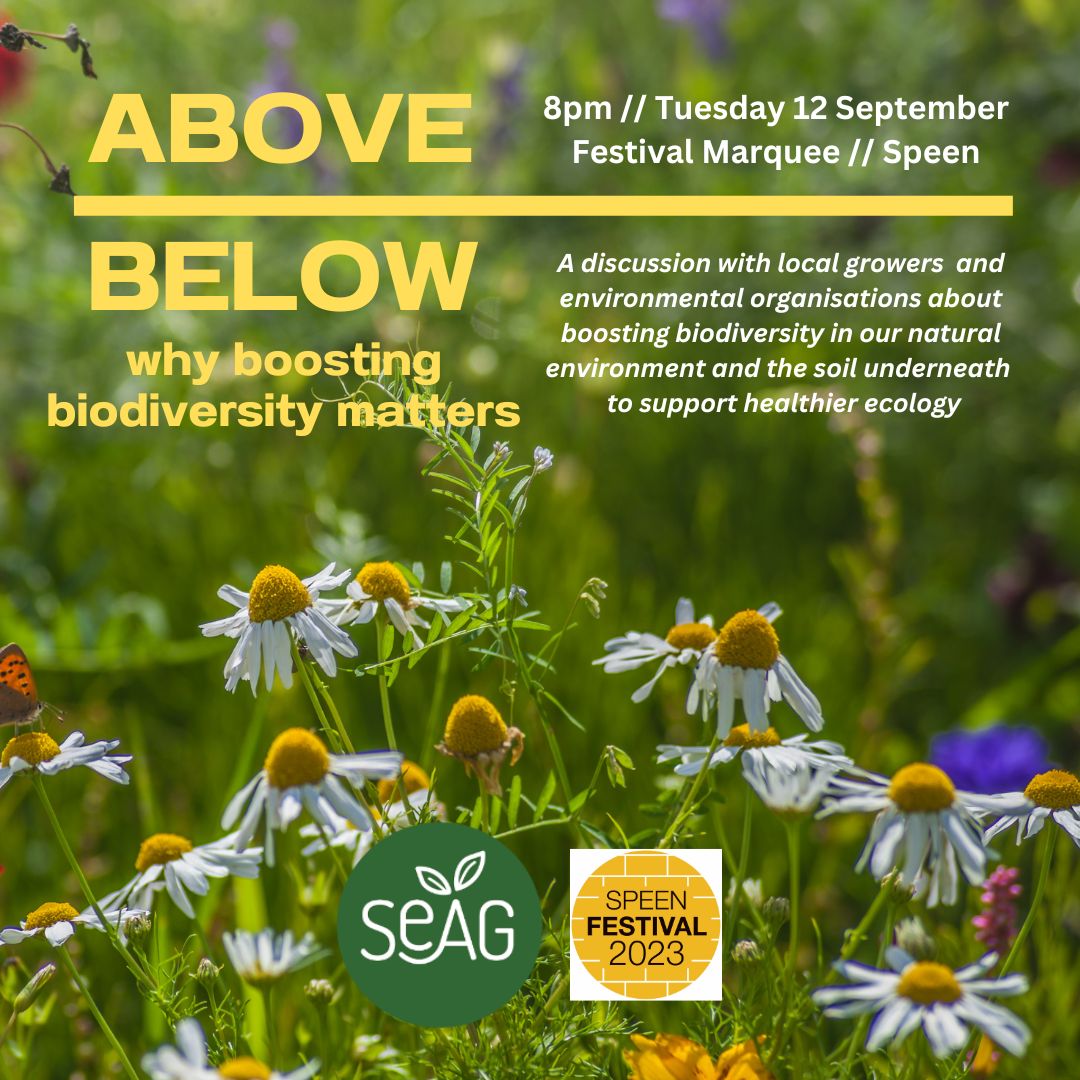 there would be no oxygen and without bees to pollinate there would be no fruit or nuts; meanwhile trees and plants absorb carbon dioxide and other forms of pollution in the air; medicines are harvested from nature and plant systems give protection from the weather and erosion. But biodiversity – the complex ecology the supports our planet – is now in crisis.
The State of Nature report (back in 2013) was a remarkable, and remarkably troubling investigation into the health and prospects of UK mammal, insect and bird life in a way never before attempted, and its conclusions were that 60% of all UK species had declined in the last century, and 31 per cent had declined badly. More than 600 species are now considered to be threatened with extinction. Reports also suggest while the UK is clearly a nation on nature lovers, our country has experienced significantly greater long-term loss of nature than the global average. In fact, we are among the world's most nature-depleted countries.
While there are many complex reasons for this biodiversity reduction – habitat loss, poaching and hunting, monoculture farming and heavy use of pesticides – reconnecting with our environment has to be key to nurturing and generating a healthy ecology and sustainable food chains. We are all part of the problem. But we can therefore all be part of the solution. In this discussion, we will hear from local farmers, landowners, growers and environmentalists about the importance of reconnecting with nature, boosting biodiversity both above and below the soil to support a healthier ecosystem. Speakers include Charlotte Downing (farmer/landowner) of Darvills Hill Farm, Emma Plunket (landscape designer, horticulture and RHS committee/lecturer) of Chiltern Forage Farm, Nick Marriner (Landowner engagement officer) Chilterns AONB and Eloise Lloyd (landowner) of Upper Warren Farm. We will also be joined by Wycombe-based ethical gardener, Toby Brown, to broaden the discussion beyond larger scale land ownership to practical ideas and examples of what we can all be doing in our gardens to boost biodiversity.
The (free) event starts at 8pm in the Festival Marquee, and we hope you will join us for a drink in the bar afterwards for a more social meet and greet with us and our speakers.
Book your tickets here
.