One the biggest changes you can make to help reduce your personal carbon footprint is through switching home energy source. On the attached webpage, Home Energy, we have reviewed the various options on the market and provided a comprehensive overview with links to relevant websites and information sources.  Please read the attached article about changing Electricity suppliers v4
*** UPCOMING EVENT ***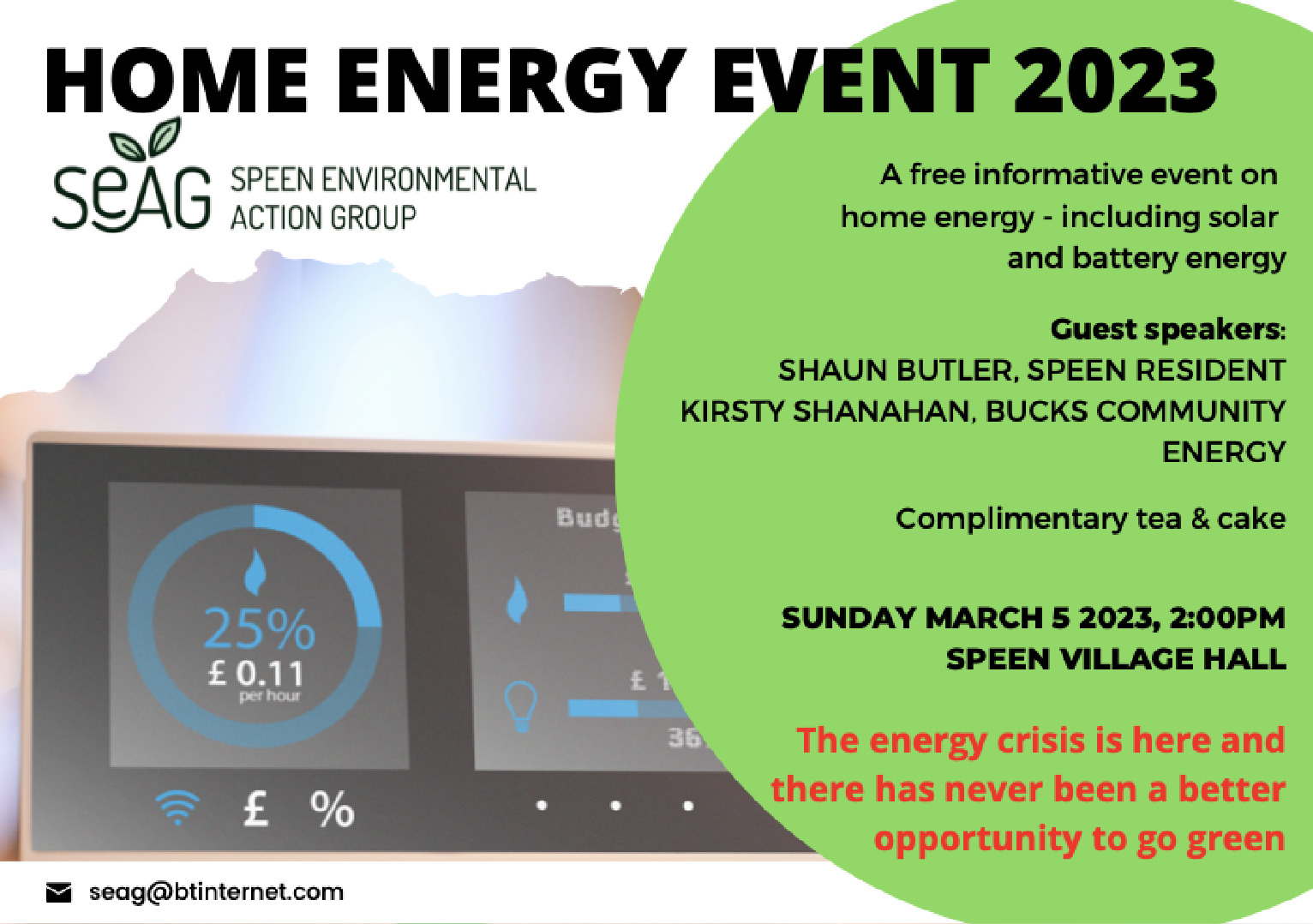 PREVIOUS EVENTS:
HOME ENERGY EVENT, September 2021
During the last Speen Festival we put together a free information event all about green home energy alternatives as part of Speen Festival. Speakers included representatives from a range of green energy providers, including solar and heat pumps, as well as local Speenies that have been through the process of researching and installing systems in their own homes.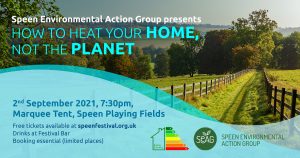 Kirsty Shanahan
is a professional marketer who founded Buckinghamshire Community
Energy (BCE), a community benefit society whose objective is to support people, community organisations and businesses of Buckinghamshire to decarbonise and reduce their energy use. She aims to help make sustainable, low carbon living and working the new norm, removing financial and behavioural barriers which prevent low carbon living becoming a practical reality for many homes and businesses. Kirsty has gained the Renewable Energy Expert Galileo Certi6cate from the European Centre of Technology and is in the process of qualifying as a Domestic Energy Assessor and Retrofit Assessor.
htt
ps:/
/
buc
k
sc
o
m
m
uni
t
y
e
ne
r
g
y
.
o
r
g
/
Greg Bishop is managing director of Next Generation Renewable Energy (NGRE) of which he was co-founder in 2009. The company specialises in solar PV, battery storage and mechanical ventilation heat recovery (MVHR). NGRE is a small family run business which installs throughout Oxfordshire, Buckinghamshire and surrounding areas. It has been MCS accredited since 2009 and has been installing solar PV since then. https://www.ngre.co.uk/
Graham Hazell has worked in the Building Services (Heating, Ventilating and Air Conditioning) Sector for over 37 years . He specialised in Heat Pumps around 20 years ago and has worked as an independent consultant to the Heat Pump industry, most notably the Heat Pump Association (HPA) and the Microgeneration Certification Scheme (MCS) as well as other heat pump and allied trade associations. He was involved in the early discussions with government in formulating the Renewable Heat Incentive (RHI) and the next set of Building Regulations. His work with MCS is centred around delivering quality renewable heating systems via standards and guidelines, with a focus on consumer protection. For information on MCS consumer standards and protection go to https://www.mcscertified.com
Chris Smith
is a founder and managing director of Meld Energy, a UK-based development
company working in partnership with Government, non-Government and commercial entities to deliver zero-carbon energy systems and projects. He is a low carbon developer and strategic thinker, skilled at delivering strong commercial outcomes to projects.
htt
ps:/
/
m
e
l
d.
e
ne
r
g
y
/
Home Energy Projects
Contact: seag@btinternet.com