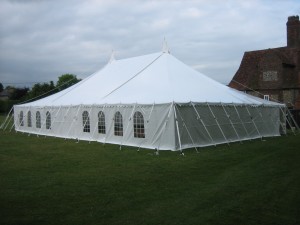 The Marquee is mainly used for local village events (Fetes, Funday, Festival, etc). It is also occasionally available for hire by villagers of Speen, Hampden and North Dean. The hire income covers repairs and insurance costs, with any surplus being put into a reserve for the Marquee's eventual replacement.
The Marquee is managed through a small management group and a team of trained (well, enthusiastic!) volunteer erectors  Each hiring requires a team of 8-12  drawn from a pool of about 100 volunteers who were each persuaded in a weak moment to give over their email address.
After several years experience the erections now usually go very smoothly. They also provide much amusement (both for team members and spectators!) and a good opportunity to meet other villagers. To save time and effort a dedicated trailer, motorised stake hammer and a stake puller have been purchased.
The first marquee reached the end of its usable life at the end of the 2008 season. So it was replaced with a new one of the same size and type, made by Weatherills at Thetford, Suffolk. The Grand Opening took place in 2009 when Pastor Andy Gower led a mass blessing by villagers.
The new marquee cost £10,000 including new matting and groundsheets etc. We sold the old on eBay for £1,650, used £8.700 from our hirings reserve, and raised the remainder from a Grand Draw. Nearly all villagers bought tickets for the Draw. 
James Entwisle, Jeremy Symondson, Ashley Cooper and Greg Cook are the current leaders of the erection teams. New volunteers are very welcome.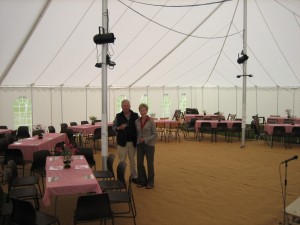 Marquee interior 
For information on the Marquee contact John Holmes (01494 488420 or jholmes@nildram.co.uk).
Tags: The new Speen Marquee
Trackback from your site.