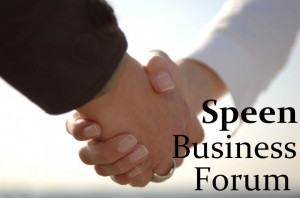 The Speen Business Forum is a semi-formal group that meets around three times a year in the KW4. We have traditionally held lunch meetings that enable business owners / business people in and around Speen to meet, socialize, share ideas, swap business cards and share the best cuisine that Dave Hill has to offer for the princely sum of around £15.
However, developments in the future will include:
Breakfast 'pitch and refer' meetings
A Business Open Day – breakfast followed by a mini-expo where businesses can open up a shopfront in the KW4 that's open to the public and other business owners alike
Business Clinics / Workshops where we help to share problems, brainstorm new ideas etc
The Speen Business Forum will soon have an online home here with a members only messageboard and news page. In the meantime, please see below for news of forthcoming events.
Next Meeting – 2nd December 2011
We'll be having an informal get-together on the 2nd December from 1600 at the KW4. The usual chat, drinks, nibbles. If you are interested in attending, please place a comment at the foot of this page and we'll add you to the event mailing list.