Speen Village Hall
Studridge Lane, Speen, Princes Risborough, Bucks,  HP27 0SA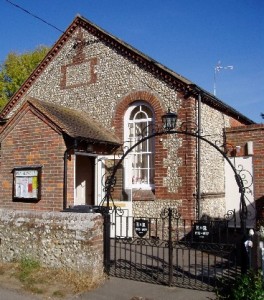 The hall started life 135 years ago as a Temperence Hall having been built in 1874. It was later purchased by the village in 1924 for the princely sum of £126. The Village Hall is owned by all of the villagers and caters for the following organisations and functions:
 Speen Pre-School
Speen Womens Institute
Table Tennis Club
Bridge Club
Birthday Parties
Jazz Concerts
Art Exhibitions
Council Meetings
Local Elections
Speen Village Hall seats 72 people and also has a kitchen which can be used for catering facilities. The Village Hall has a music license and also parking with 10 dedicated places and other parking available in the village.
The current letting rates for the Village Hall are as follows: 
Week Day:
Morning Session £18
Afternoon Session £18
Evening Session £18
Week Ends:
Childrens Parties: £30
Evening Function: £40
All Day Function: £60
 If you wish to contact anyone for more details or for bookings then contact the following members of the Village Hall association
Booking Secretary:  Sue Taylor   (01494 488500)
Chairman: Bill Groves                  (01494 488180)
Treasurer: Don White                   (01494 488437)