Speen Shop Charities Committee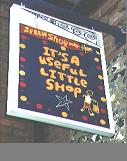 In 1995 The Buckinghamshire Housing Association purchased the old Speen Shop site and built 4 three bedroom cottages, 1 two bedroom cottage and a new shop on the site.  The cottages were completed and occupied in September 1997 and the shop was leased and officially opened in May 1998.
With the opening of the shop, Speen Shop Charities Committee was founded.  Funded by rent from the shop, the charity may provide financial assistance to villagers for any useful non-commercial purpose, which either satisfies an individual or group need, or is of benefit to the community of Speen.  The Committee is made up jointly from Speen residents and Bucks Housing staff.
In 2016/17, the Committee awarded a total of £3,705 towards the following causes:
a new PA system for the Speen Playing Field Association
new play equipment for Speen Pre-School
a shed to house garden equipment at Speen Baptist Church
a mobile vehicle activation sign (Lacey Green Parish Council)
a touch-screen TV for Speen CofE School.
In 2017/18, grants were awarded to the value of £4,350 to fund:
new Christmas tree lights for Speen Playing Field Association
a festival issue of Speen & North Dean News
a contribution to the 2017 Speen Festival, (although due to the success of the Festival, the grant was returned)
a new gazebo and tree works (Speen Playing Field Association)
replacement heating system at Speen Village Hall.
Application forms (including contact names) are available from the shop, or may be downloaded by clicking the link below:
Speen Shop Charities Application Form