Welcome to our website
Welcome to the village website for Speen in Buckinghamshire – run by villagers for the village. (Log In Here).
Speen Fete 2017
Another well enjoyed Fete took place on July 8th. The Vintage 1940's theme was enhanced when a Tiger Moth circled the Playing Fields and waggled it's wings before departing. Here is the solution to the Fete Soduku, and gosh that was a hard one – congratulations to anyone who solved it! :-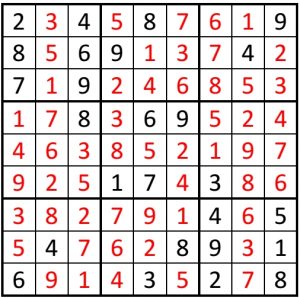 The following advertisers appeared in this years Programme, many of them have supported Speen Fete for a good few years, so why not give them a whirl ?
Beechdean Ice Cream – www.beechdean.co.uk     Tudor Travel – 07771 881245
Lloyds Wines – www.lloydswines.com         Briants of Risborough Ltd – www.briantsltd.co.uk
Ercol Furniture – www.ercol.com               The Hampden Arms – www.thehampdenarms.co.uk
Hypnos Beds – www.hypnosbeds.com      Peterley Manor Farm – www.peterleymanorfarm.co.uk
Sync Corp – www.synccorp.co.uk                              Universal Care – www.universal-care.co.uk
Anna Rose Dance – www.annarosedance.co.uk       C G Tree and Garden – 01494 562045
Lloyd Latchford Group – www.lloydlatchford.com             Oven Team – www.oventeam.co.uk
Prestwood Dog Agility – www.prestwoodpetcare.com     The Polecat Inn – www.thepolecatinn.co.uk
Rowena's – 01494 488430     Titivation – 07717 104193      Airs House – www.airshouseflooring.co.uk
Canine Cutz – www.canine-cutz.com     K and B Family Butchers – www.kandbfamilybutchers.co.uk
The Harrow – www.harrowhughenden.co.uk   Deluxe Roofing – www.deluxeroofing.co.uk
SB Professional – 01296 486470        Suttons Property Maintenance – 01494 638953
The Full Moon – www.thefullmoon.info                           Wren Davis – www.wrendavisdelivery.co.uk
There is a £25 cash prize for the pearson who answers the most of the following questions first, the closing date is 1st August. Send your answers to Village@SpeenBucks.org.
Q1 – Who is offering an "Old Mower Amnesty" ?
Q2 – Which shop appears to have 8 people in their family ?
Q3 – will be here on 24 July
Speen Festival 2017
Speen Festival 2017 is ready to go. The schedule is out and the booking office is OPEN. Read more here.
Royal Thankyou
The village celebrated Her Majesty's 90th birthday at an event on the Playing Fields in 2016, and sent a card to the Queen, which had been designed by Beth Downing. A very nice letter of thanks has been received, which can be seen by clicking here.
Speen Message Board
A web based message board for Speen was set it up in 2002 and is still going. Click on this link http://speenbucks.proboards.com/ or copy the address into your address bar to access it.